1/2 Way to Christmas Half Marathon, 10k, 5k & 1ml
July 20, 2019 at Star City Brewery in Downtown Miamisburg, Ohio
It's the most wonderful time of the year again this July! Celebrate Santa and his elves, Christmas trees, lights, cookies & more as you run through Christmas themed music, decorations, costumes and more! Plus ornament finisher medals, Christmas cookies, festive aid stations, tree lighting and pictures with Santa! You can never have too much Christmas, and so come join us for a jolly good time this summer. We have races for all ages and abilities; beginners welcome!
Registration Opens in October!
| | | | |
| --- | --- | --- | --- |
| | | | |
| | | | |
---
Highlights
Fun Christmas themed race with Christmas Tree Lighting at Sunrise!

Aid Stations Every Mile with Christmas Music, Decorations, and Christmas Cookies!

Christmas Ornament Medals to first 600 Registered in any Race and Beast Finisher Medal to first 100 Registered for Beast 3-Race Challenge!
Catered Breakfast with Eggs, Meat, Fruit, Juice, Coffee, Milk, Craft Beer, Cider, Soda, Christmas Cookies & More!

Race Pricing for Every Budget and a

Portion of the Proceeds Support Hannah's Treasure Chest!
Stylish Lifestyle tees in Men's & Women's Cut with Option for Tank Tops & Sleeveless!
Timed Races
Timed Races include ½ Marathon, 10k, 5k & 1-Mile, plus the Beast 3-Race Challenge!
Time Limit
There is a 4-hour time limit (7:00am-11:00am) on the half marathon. Timing ends at 11:00am. If you are unable to complete the race in this time, please pick a shorter race option.
Inclement or Hot Weather
Our race is scheduled in Ohio in July, which could mean hot weather or even potential storms. We encourage you to prepare for these potential conditions. Here are some helpful tips: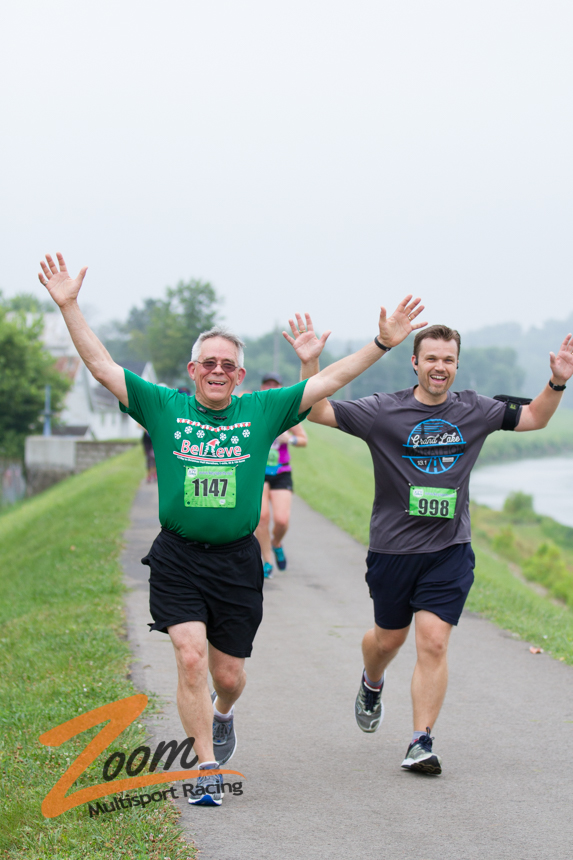 Hydrate well and fuel well in advance: Be sure you drink plenty of fluids and eat nutrient rich foods in advance of the race.

Wear light clothing, a hat and sunscreen and apparel that's light in color, lightweight, and has vents or mesh. Wicking fabrics are a must. Consider wearing a cap — or better yet, a visor — and sunglasses to reduce heat build-up in your head. Pre-run, apply a broad spectrum, sweat-proof sunscreen of SPF 30 or higher to all exposed skin.

Lower your expectations: Accept the fact the race will likely be more difficult than anticipated. Every 5°F rise in temperature above 60°F can slow your pace by as much as 20 to 30 seconds per mile. Start slower than planned, and make getting to the finish running strong your main goal. Run by perceived effort rather than mile splits.

Use the Aid Stations:

At the aid stations, take one cup of water to drink, and another to pour over your head. If necessary, slow and/or walk at aid stations to get enough fluids. Be sure you drink and eat as necessary throughout the race.

If necessary, stop and walk. If you get overheated or tired, stop and walk. Use the aid stations to rest.
Should we have inclement weather or excessive heat the following event changes may be made:
Race courses may be altered or races may be shortened, delayed or have a time limit imposed.

Aid stations may be self-service with water and sport drink and may not play music or have decorations.

As a VERY LAST RESORT the race may be canceled and will not be rescheduled.

Refunds cannot be give under any circumstances.
Race Course
Race Course Map:

http://www.mapmyrun.com/routes/view/1389761635

Start / Finish Line will be at the Heritage Village in Downtown Miamisburg on W. Lock Street. This is 2 blocks south of registration at Star City Brewery.

Registration and Packet Pickup in Downtown Miamisburg is a short walk from the Start / Finish Line.

The course is an out and back run on the Great Miami Recreational Trail; athletes will run from Miamisburg to Franklin and back for the ½ Marathon. The 1-mile, 5 and 10k runs will also be out and back on the same path.

There are Christmas Themed Aid Stations approximately every mile for your motivation, so you can experience Christmas while you run. Each will have its own unique Christmas theme with Christmas music & decorations, Christmas cookies, water, sport drink, & gels.
Schedule
6:00am: Registration and Packet Pick-up

6:30am: Tree Lighting at Sunrise

7:00am: 1-Mile and ½ Marathon Start

7:20am: 5k Start

7:30am: Photobooth w/ Santa, & Post Race Party Music, w/ Food, Drink at Star City Brewery

8:05am: 10k Start

11:00am: Timing Ends & Runners must have Completed the Course
Parking and Restrooms
There will be parking available at Star City, Miamisburg Community Park, Miamisburg Riverfront Park, and on the streets of Miamisburg. There will be restrooms available at Star City, Miamisburg Community Park, Miamisburg Riverfront Park, the Start/Finish Line, and throughout the race course.
While many families are fortunate enough to provide for their babies, toddlers and children, many parents struggle in raising their children with sufficient resources. Hannah's Treasure Chest responds to these needs by providing nonprofit and social service agencies in Butler, Greene, Montgomery, and Warren Counties with clothing, baby equipment, diapers, hygiene items, toys, books and other essential items for their clients. The assistance from Hannah's Treasure Chest greatly enhances programs already provided to children in the Miami Valley. We are asking athletes to support Hannah's Treasure Chest by donating money or items.
Race Shirts
The shirts will be short sleeve lifestyle tees in Men's Cut and Women's Cut, with an option for a tank top / sleeveless tee. To be guaranteed a race tee, you must register at least 2 weeks in advance of the race.
Awesome Finisher Medals
There are Christmas Themed Ornament Finisher Medals for First 600 in Any Race, plus Beast Finisher Medals for First 100 in that race!
Post-Race Party
After the race, celebrate with Christmas themed music, food and drink, while you cheer on your friends and family as they finish! All finishers will get a catered Christmas Breakfast (eggs, meat, fruit, juice, coffee, milk, water), a Beer or Cider (soda and non-alcoholic drinks also available) and Christmas cookies for dessert! It will be a the most wonderful breakfast of the year!
Pictures with Santa, Professional Photography & Photo Booth
Come get your picture with Santa or pose with your friends, family and team at our photo booth. We will also have a professional photographer out on course to take your pictures while you race. Pictures will be posted on Facebook after the race for you to like, tag and share!
Event Pricing
Pricing Points: (1) Sept. 1-Nov. 30; (2) Dec. 1-Feb. 28; (3) March 1-May 31; (4) June 1-July 15 & (5) Race Week, July 15-20. Everyone enjoys post-race party with photos, food, drinks, and a super fun race!
All ages, Any Race, Fun Run: Does NOT include timing, event shirt or finisher medal = $20

All ages, 1-Mile Race: Includes all the Christmas Swag and Timing = $35-38-40-43 & Race Week $45*

All ages, 5k Race: Includes all the Christmas Swag and Timing = $40-43-45-48 & Race Week $50*

All ages, 10k Race: Includes all the Christmas Swag and Timing = $45-48-50-53 & Race Week $55*

The Beast 3-Race Challenge (10.3 miles: Run the 1-mile, 5k & 10k): Includes all the Christmas Swag and Timing + 1 Beast finisher Medal = $65-68-70-73 & Race Week $75*

½ Marathon: Includes all the Christmas Swag and Timing =

$80-85-90-95 & Race Week 100*
NOTE: Registration is not refundable under any circumstances. Those registering for the low-cost race option do not receive event timing, event tee, and finisher medal. Everyone receives jingle bells, race meal and drink, and cookies. If you skip the event tee, you can save $5. All racers who are pushed, pulled or carried are FREE and do not need to register. Any free registration does not include timing, swag or post race meal and drink.
Directions
Coming Soon!
Registration Opens in October!